Model Number: DMFC3265M
This Model has been retired and has not been replaced. An Owner's Manual and other information for the DMFC3265M is available on the model support page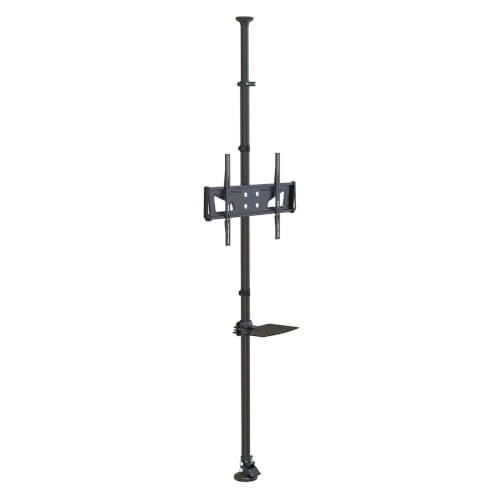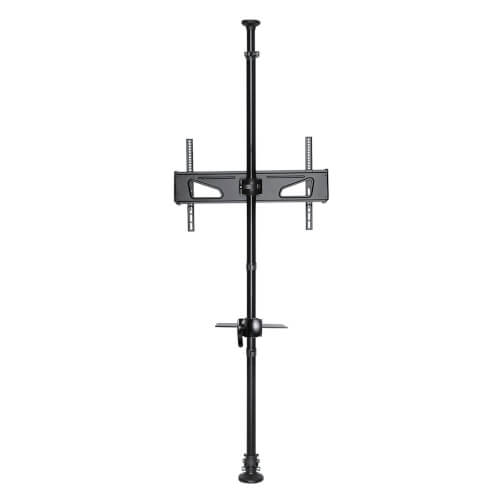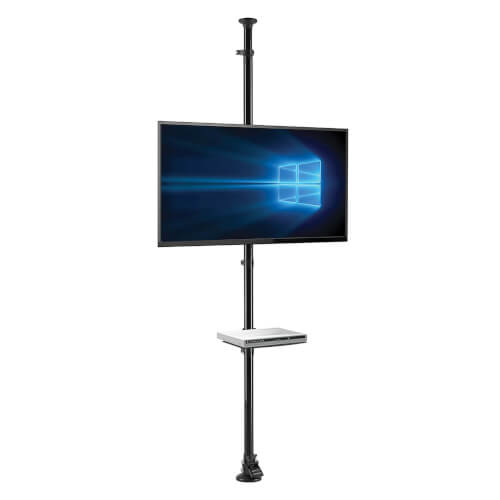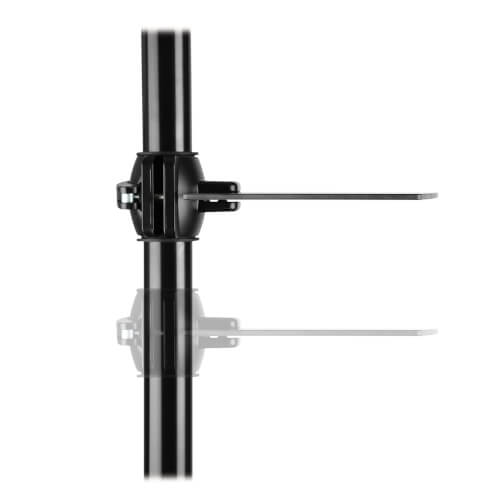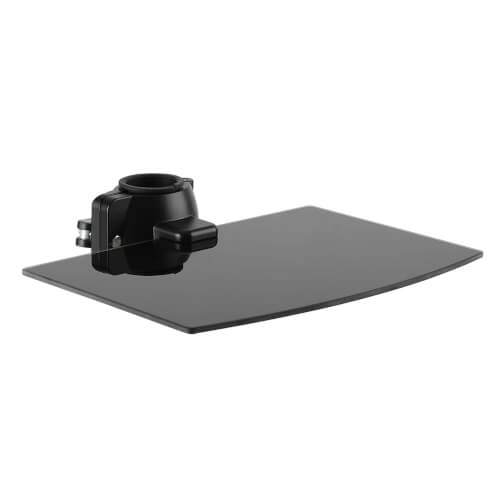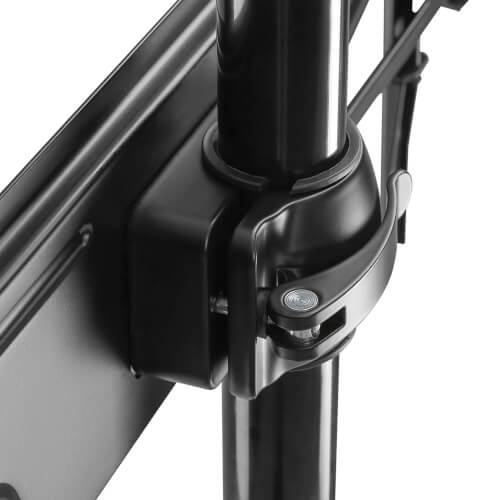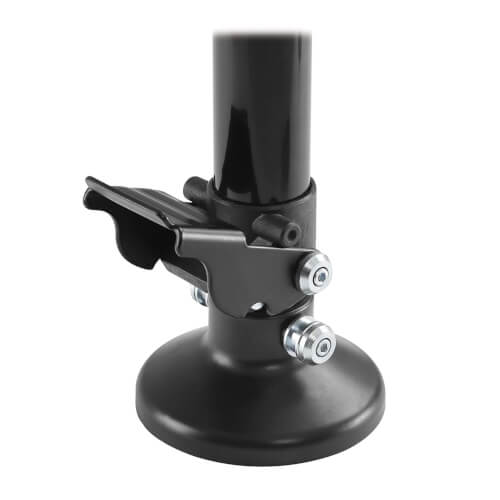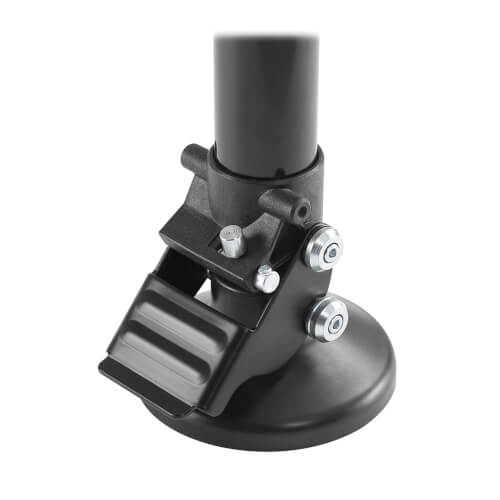 Floor-to-Ceiling Mount for 32" to 65" TVs and Monitors - Height Adjustable, Shelf for A/V Source
---
Floor-to-Ceiling Mount Works in Almost Any Room with a Ceiling up to 12-ft. (3.66 m) High
The DMFC3265M mount offers flexible screen placement in rooms where installing a display mount on a wall is not possible or desirable. Made of steel with a black powder-coated finish, the support pole has telescoping adjustment to mount in rooms with solid ceilings from 6.8-ft. (2.07 m) to 12-ft. (3.66 m) high. A pressure clamp at the base secures the pole. As long as you have access to power, you can mount the support pole anywhere in the room. Pole diameter is approximately 1.7 inches; the top telescoping section is slightly narrower.
Easily Mount a 32" to 65" Display and Adjust the Viewing Angle
Mount the display bracket to the support pole at the best height for your application. Designed for flat-panel displays from 32 to 65 inches, the DMFC3265M supports the following VESA mounting hole patterns: 100 x 100, 100 x 200, 200 x 200, 200 x 300, 200 x 400, 300 x 200, 300 x 300, 300 x 400, 400 x 200, 400 x 300, 400 x 400, 500 x 200, 500 x 300, 500 x 400, 600 x 300 and 600 x 400. Maximum supported weight is 55 lbs (24.9 kgs). The mount offers -3° to +3° screen level adjustment and ±180° swivel to improve the viewing angle for the audience.
Store Your Video Source on the Convenient Height-Adjustable Shelf
The shelf mounts to the support pole at a height of your choosing. It provides a convenient place for your laptop, DVD or Blu-ray player or other video source. The shelf is 11 x 7.8 inches and supports up to 11 lbs (4.9 kgs). Cable guides route cords along the pole to reduce clutter.
Keep the Mount Portable or Choose Permanent Installation
Perfect for temporary digital signage, the DMFC3265M does not require permanent mounting. When needs change, it can be moved without damaging the ceiling or floor. You also have the option of securing the pole to a permanently mounted floor anchor (included).
Show video in a multipurpose area not equipped with A/V equipment
Create temporary digital signage in a retail environment
Mount an extra screen in a lobby for a special event
Move a screen to a different corner as seating arrangements change in a living room or conference room
Add a screen to a classroom without drilling holes for a wall-mount display
All DMFC3265M components (some assembly required)
Assembly fasteners
Display mounting fasteners
Hex keys
Owner's manual
OVERVIEW
| | |
| --- | --- |
| UPC Code | 037332239396 |
| Device Compatibility | Monitor/HDTV |
PHYSICAL
| | |
| --- | --- |
| Color | Black |
| Material of Construction | Steel |
| VESA Pattern (mm) | 100x100; 100x200; 200x200; 200x300; 200x400; 300x200; 300x300; 300x400; 400x200; 400x300; 400x400; 500x200; 500x300; 500x400; 600x300; 600x400 |
| Mounting Location | Floor |
| Maximum Weight Capacity (lbs.) | 88 |
| Number of Displays | 1 |
| Shipping Dimensions (hwd / in.) | 5.10 x 9.10 x 84.60 |
| Shipping Weight (lbs.) | 21.40 |
| Unit Dimensions (hwd / in.) | 149.6 x 28.3 x 7.87 |
| Unit Weight (lbs.) | 16.7 |
FEATURES & SPECIFICATIONS
| | |
| --- | --- |
| Cord Management | No |
| Tools Necessary | Yes |
WARRANTY
| | |
| --- | --- |
| Product Warranty Period (Worldwide) | 5-year limited warranty |
Audio Video Cables
| | Model Number | Description |
| --- | --- | --- |
| | P569-003-CERT | 4K HDMI Cable with Ethernet (M/M) - 4K 60 Hz, Gripping Connectors, 3 ft. |
| | P569-006-CERT | 4K HDMI Cable with Ethernet (M/M) - 4K 60 Hz, Gripping Connectors, 6 ft. |
| | P569-015-CERT | 4K HDMI Cable with Ethernet (M/M) - 4K 60 Hz, Gripping Connectors, 15 ft. |
Video Extenders
| | Model Number | Description |
| --- | --- | --- |
| | B126-1D1-WHD1 | Wireless HDMI Extender Kit, Transmitter/Receiver, IR Control, DisplayPort Adapter, 1080p, Up to 165 ft. |
| | B127-1A1-HH | HDMI over Cat6 Extender Kit, Transmitter/Receiver, 4K 60 Hz, PoC, HDR, 4:4:4, 125 ft., TAA |