Discontinued
This Model has been retired and replaced by U444-06N-HD-AM. An Owner's Manual and other information for the U444-06N-HD is available on the model support page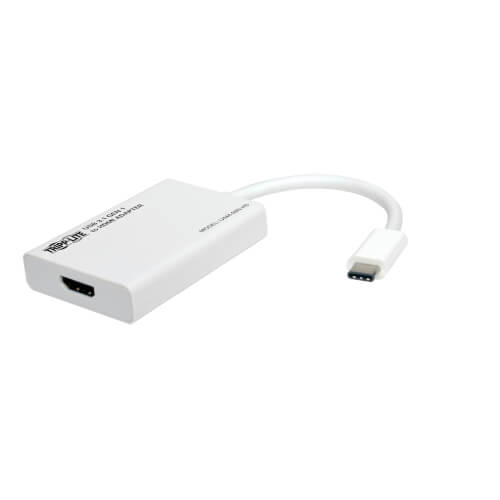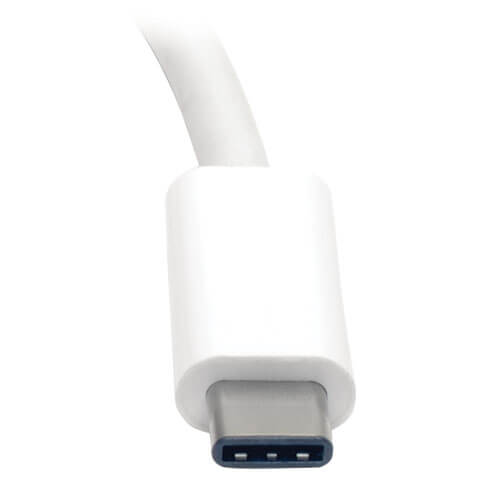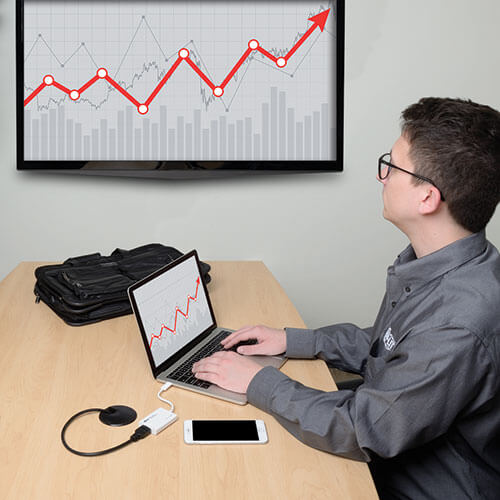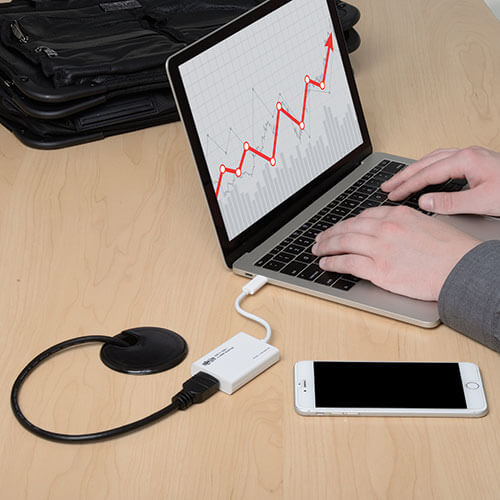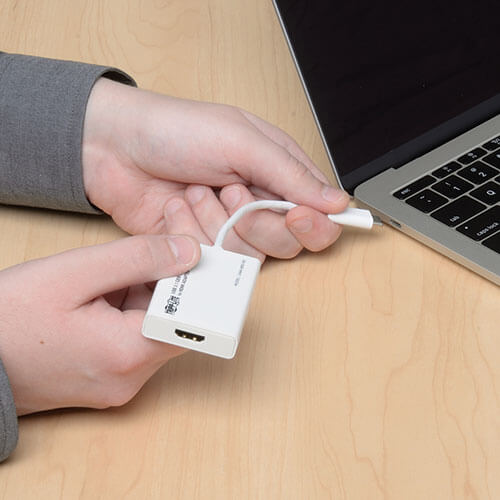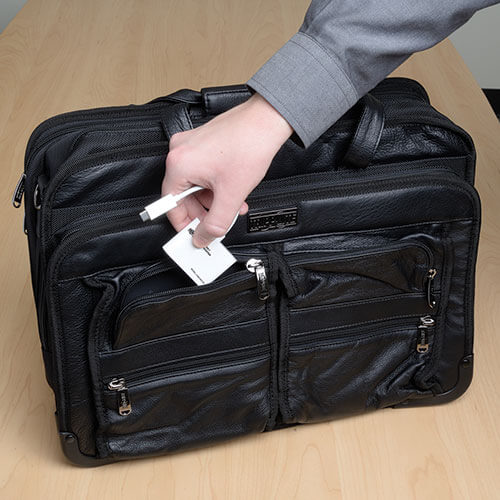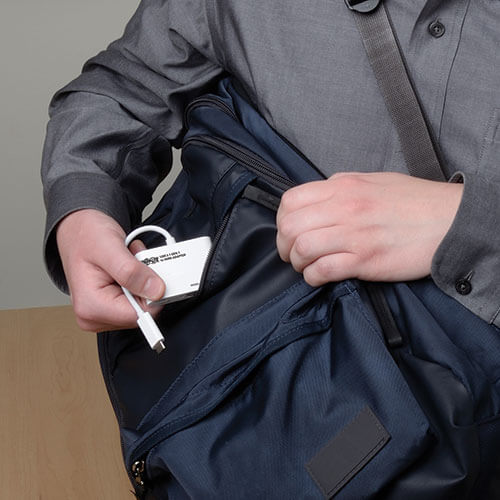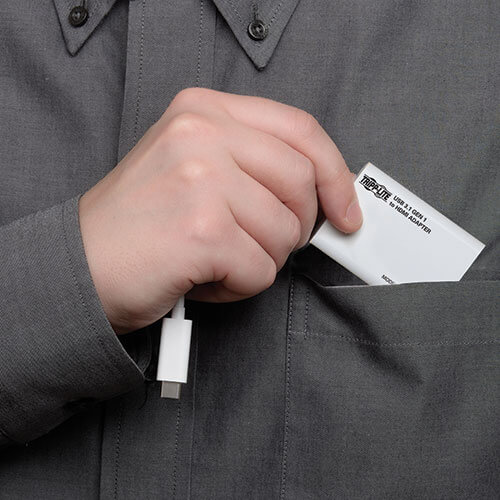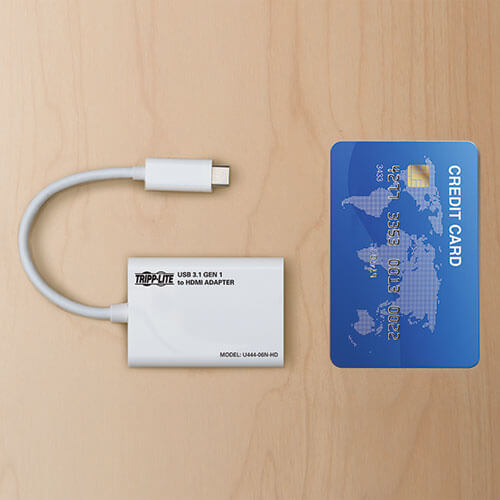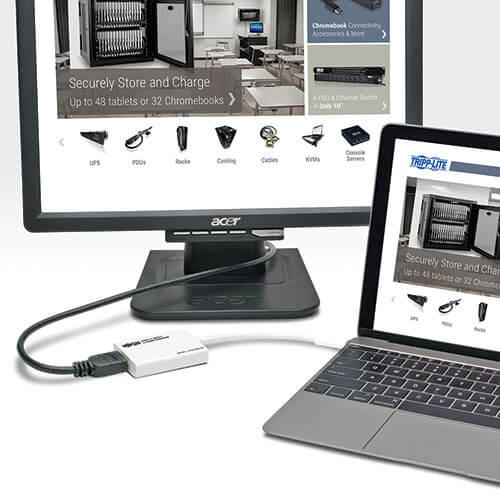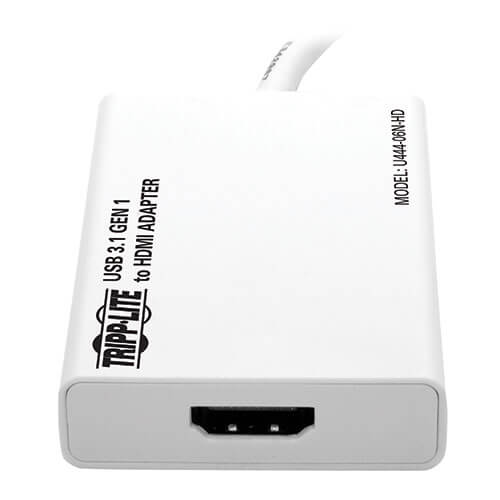 ---
The U444-06N-HD USB 3.1 Gen 1 USB-C to HDMI Adapter (M/F) helps you transmit digital audio and 1080p video from your tablet, laptop, Chromebook, MacBook, smartphone or PC to an HDMI-enabled television, monitor or projector. It's an ideal tool for giving video presentations in conference rooms and classrooms, editing multiple documents on a larger screen or streaming video for digital signage in crystal-clear 1080p.

You can extend video from your primary display to another, duplicate the same video on both displays or change the second display to your primary.

Connect the reversible USB-C plug to your source device's USB-C or Thunderbolt 3 port. The fumble-free USB-C plug connects in either direction to ensure fast, easy connection every time. Then, connect the HDMI port to your display using an HDMI cable (sold separately).

The U444-06N-HD adapter supports HD video resolutions up to 2048 x 1152 (including 1080p) at 60 Hz and 5.1-channel surround sound. It also supports USB 3.1 Gen 1 data transfer rates up to 5 Gbps. You can use up to six adapters to connect six additional displays to a Windows device at the same time.
Connects an HDMI Display to Your USB-C or Thunderbolt 3 Device

Ideal for giving video presentations, editing multiple documents or streaming video for digital signage
Supports USB 3.1 Gen 1 data transfer rates up to 5 Gbps
Compatible with Windows and Mac computers
Add up to 6 adapters to connect 6 displays to a Windows source device
Common Applications

Extends video from your primary display to another
Duplicates the same video on 2 displays
Converts a secondary display to your primary display
Crystal-Clear 1080p Video and Digital Audio

Supports HD video resolutions up to 2048 x 1152 (including 1080p) @ 60 Hz
Supports 5.1-channel surround sound
Resumes automatically from hibernation and suspend modes
Built-In Cable with Reversible USB-C Connector

Fumble-free reversible USB-C plug connects in either direction for quick connection every time
Ready for Instant Use

Driver CD included for device compatibility
About the size of a credit card for easy carrying in a pocket, purse or laptop bag
Backward compatible with non-1080p displays
Source device with USB-C or Thunderbolt 3 port
Windows 7 and later or Mac OS X 10.8.5 and later (32- and 64-bit versions)
Also supports Surface tablets running non-RT Windows 8 or 8.1
Display device with HDMI input
U444-06N-HD USB 3.1 Gen 1 USB-C to HDMI Adapter (M/F)
Driver CD
Owner's manual
PHYSICAL
| | |
| --- | --- |
| Color | White |
| Shipping Dimensions (hwd / in.) | 5.20 x 5.20 x 0.90 |
| Shipping Weight (lbs.) | 0.10 |
ENVIRONMENTAL
| | |
| --- | --- |
| Operating Temperature Range | 0C ~ 70C (32F ~ 158F) |
| Storage Temperature Range | 10C ~ 70C (14F ~ 158F) |
| Relative Humidity | Less than 85%, Non-Condensing |
| Operating Humidity Range | 10% ~ 85% RH |
| Storage Humidity Range | 5% ~ 90% RH |
CONNECTIONS
| | |
| --- | --- |
| Side A - Connector 1 | USB C (MALE) |
| Side B - Connector 1 | HDMI (FEMALE) |
FEATURES & SPECIFICATIONS
| | |
| --- | --- |
| HDCP Specification | 1.3 |
| Technology | USB 3.1 (Gen 1); HDMI; USB |
WARRANTY
| | |
| --- | --- |
| Product Warranty Period (Worldwide) | 3-year limited warranty |
Frequently Asked Questions