Corporate Networks Get Edgier
Distributed Data Processing Places New Demands on Networks
The concept of where data can and should be stored and processed has evolved. First the cloud became an option to supplement or replace a traditional core data center, and now the network edge has entered the mix. As smart sensors and devices in edge locations like factories, offices, homes, stores, vehicles, warehouses and cities have become smaller, less expensive and increasingly interconnected, this Internet of Things (IoT) has created an explosion of data. IDC predicts that more than 150 billion IoT devices will create 90 trillion gigabytes of data by 2025. Organizations in every sector – including business, manufacturing, telecommunications, healthcare, financial services, retail, transportation, government, energy and education – are determining the best way to analyze and capitalize on this data.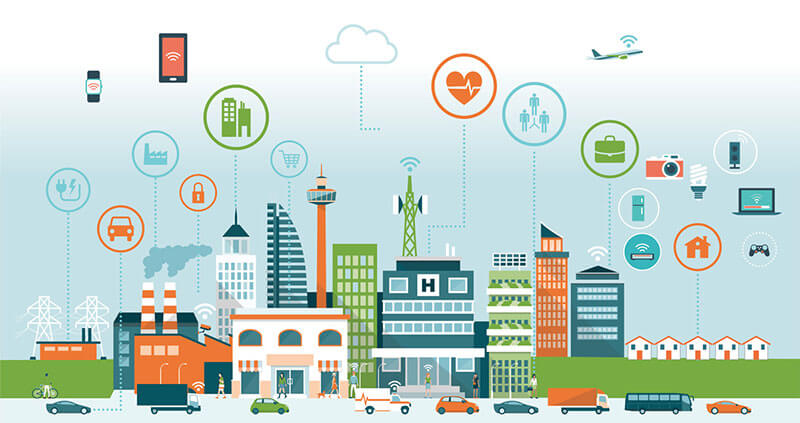 An IoT-connected world generates massive volumes of data, often in new and unexpected locations.
The decision of where edge data should be processed is largely application-driven. Core/cloud data centers and edge computing will coexist and cooperate, each performing the functions they are best suited for, but Gartner predicts that data processed outside a traditional core/cloud data center will grow from 10% currently to 50% by 2022. Three main factors are driving edge computing: network latency, bandwidth costs and application availability:
Network latency can cause poor performance or total failure for time-sensitive or interactive applications that require near-immediate response times. Edge computing shortens distances and requires fewer network hops to minimize latency and guarantee application viability.
Bandwidth costs can increase significantly when continuously shuttling large volumes of data from edge to core/cloud and back again. Edge computing reduces bandwidth requirements and congestion, while communicating required information to the core/cloud data center much more efficiently.
When an edge location relies completely on a core/cloud data center to process data, productivity is solely dependent on the network connection. If that connection goes down, business grinds to a halt. Edge computing preserves application availability, even during a network failure, by eliminating the need for constant communication with a core/cloud data center. Because edge computing systems take on increased importance, however, they must be as reliable as a traditional data center.
Fast, Cost-Effective and Resilient – Micro Data Centers to the Rescue
It's clear that edge computing is a vital and growing trend, but the question is how best to move the compute component to the edge. One option is building new data centers closer to edge locations to reduce network latency, but this is extremely expensive and time-consuming. It also doesn't work well unless edge locations are clustered, as in a large city.
For many applications, preconfigured micro data centers that integrate a rack enclosure, backup power, remote management and cooling options are proving to be a more feasible and cost-effective option. Organizations that require edge computing for industrial automation, manufacturing, security systems, artificial intelligence, autonomous vehicles, content delivery networks (CDNs), cellular communications and other latency-sensitive applications are strategically integrating micro data centers into their networks. Preconfigured micro data centers provide several benefits:
Reduction in site-related costs
Quicker deployment time
Standardized configurations
Micro data centers conveniently and cost-effectively enable edge computing in locations where dedicated IT space is unavailable and impractical or cost-prohibitive to install. Sites that require edge computing, like branch offices, banks, retail locations, cell towers and factories, typically have little or no access to on-site IT staff and limited space for IT equipment, so micro data centers are designed to save space and require as little IT support as possible. Because of the critical applications served by edge computing, micro data centers also need to provide a level of system availability and security comparable to a full-size data center. The ability to customize and then standardize a solution to the needs of the application is also key, as it makes the micro data center more cost-effective, more reliable and leads to quick, easy, repeatable deployments and service.
Tripp Lite's EdgeReady™ micro data centers are the industry's first and only micro data centers that ship three business days after the receipt of an order. Dozens of stock configurations are available for immediate order, or Tripp Lite's solution team can customize every aspect of each stock configuration to match specific applications. Customized micro data centers ship in as little as five business days.