What are standing desk solutions?
Research suggests that sitting at a desk all day long can increase the risk of serious health problems. The American Medical Association (AMA) "recognizes that there are potential risks of prolonged sitting" and "encourages efforts by employers, employees and others to make available alternatives such as standing work stations." [1]
However, standing all day can cause other problems, such as swelling and fatigue. WorkWise standing desk solutions provide a better way to promote wellness and discourage harmful sedentary behavior. They allow office workers to seamlessly alternate between sitting and standing throughout the workday, helping them moderate physical stresses and maintain a steady flow of energy, ideas and activity.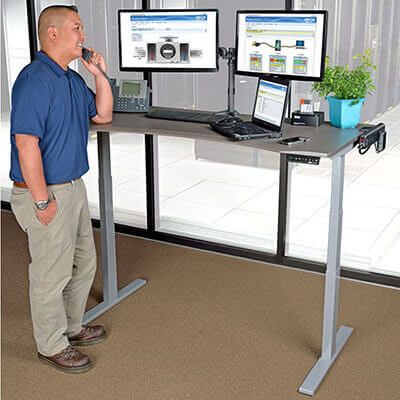 WorkWise adjustable-height desks provide a complete desk solution, combining an electric adjustable-height base, digital memory control and a variety of durable and attractive work surfaces.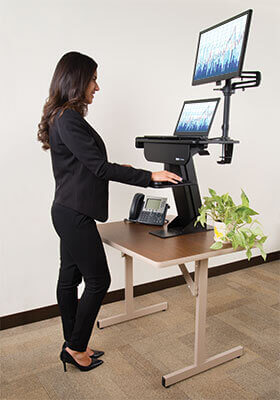 WorkWise adjustable-height workstations convert existing desks to gain the benefits of standing for part of the day.
1. American Medical Association Policy H-440.843 Health Risks of Sitting.
What are the potential benefits of standing for part of the day?
Initial studies and user reports suggest that standing for part of the day (standing ergonomics) has a range of potential health, wellness and productivity benefits:
Improving alertness, concentration and productivity
Improving posture and toning key muscle groups
Reducing fatigue, eyestrain, aches and pains
Improving circulation and respiration
Lowering blood pressure and reducing risk of diabetes and heart disease
Increasing comfort, improving morale and reducing absenteeism
Decreasing risk of repetitive stress injuries
Accommodating multiple workers in shared spaces
Burning extra calories and increasing metabolism
For example, a Mayo Clinic study found that simply standing for two hours during the day instead of sitting can burn 340 extra calories.[2] That's like cutting a dozen doughnuts out of your diet every week!
2. James A. Levine & Selene Yeager, Move a Little, Lose a Lot.
What if I can't stand during work, or prefer not to?
WorkWise standing desks are still beneficial for users who remain sitting. They allow users to adjust the height of the work surface for optimal ergonomic positioning. In addition, the ability to make quick adjustments and save height preferences using the digital memory control is perfect for accommodating the comfort of multiple users in temporary and shared workspaces.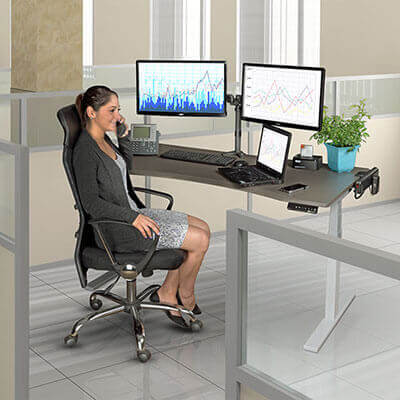 Should I order an adjustable-height desk or an adjustable-height workstation?
If you need a complete desk, you should order an adjustable-height desk. Desk bases and desk tops are sold separately, so you should order one of each per complete desk.
If you prefer to convert an existing desk, order an adjustable-height workstation. Depending on the model you select, the standing workstation will either rest on top of your existing desk or clamp to it.
What are WorkWise adjustable-height desks (also known as sit-stand desks)?
WorkWise sit-stand desks make it easy to alternate between sitting and standing throughout the day, promoting health and productivity. Users can customize height settings for personal comfort and save preferences with the digital memory control.
A Adjustable-Height Base
Electric motor adjusts height from 23.5" to 49" quickly
Sturdy steel base holds up to 365 lb. (including top)
Maintains stability across entire height range
B Digital Memory Control
Displays desk height in inches
Adjusts height in 0.1" increments
Saves up to four preferences
C Powder-Coated MDF Top
Provides exceptional durability and long service life
Made in U.S.A. from 100% recycled wood fibers (certified by Sustainable Forestry Initiative)
Complies with California (CARB) emission requirements and qualifies for LEED credits
60" top includes an ergonomic, contoured edge for easy reach
What are the steps for configuring a WorkWise sit-stand desk?
Desk bases and desk tops are sold separately, so choose a base (3 color options) and choose a top (7 size/color options). The base includes the digital memory control and adjusts to fit any of the available tops.
1. Choose a Base
Black
Gray
White
2. Choose a Top
48" x 30" Black
48" x 30" Espresso
60" x 30" Black
60" x 30" Espresso
60" x 30" White
72" x 30" Black
72" x 30" Espresso

The 60" tops have a contoured front.
The 48" and 72" tops have a straight front.
3. Add Accessories (Optional)
Use our Desk Configurator to choose your base, top and accessories.
Why is ANSI/BIFMA compliance important?
The Business and Institutional Furniture Manufacturers Association (BIFMA), in accordance with the requirements of the American National Standards Institute (ANSI), governs standards evaluating the safety, durability and structural performance of products intended for use in commercial office and related institutional environments. ANSI/BIFMA standards cover a wide range of furniture products, including desks. ANSI/BIFMA compliance is an assurance of quality, performance, safety, stability and ergonomic design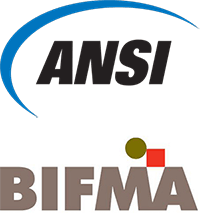 What are WorkWise adjustable-height workstations (also known as sit-stand workstations)?
WorkWise sit-stand workstations convert most fixed-height desks and other work surfaces to gain the benefits of standing ergonomics. Conversion is easy and completely reversible. Standing workstations support up to 29 lb. and provide stability in every position, yet adjust with a single touch. An extra-large keyboard tray provides ample space for the most popular models.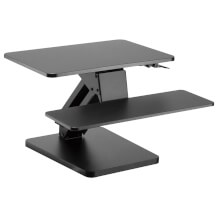 Desktop Workstation
Sits on any flat work surface
Adjusts monitor platform height approximately 22" above work surface
Requires only 20" x 20" desk space
Supports dual monitors (with optional mount)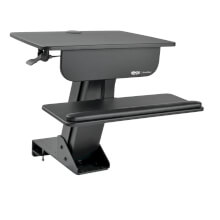 Desk-Clamp Workstation
Clamps to a flat surface up to 3" thick
Adjusts monitor platform height up to 22" above work surface
Accommodates various depths
Supports dual monitors (with optional mount)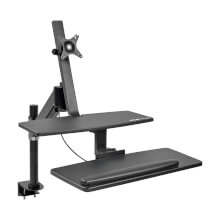 Single-Monitor Desk-Clamp Workstation
Clamps to a flat surface up to 3.35" thick
Mounts an LCD monitor up to 27" (VESA 75x75 or 100x100)
Adjusts keyboard tray height up to 14.5" above work surface
Permits left-right, up-down and front-back movement