What is a Power Distribution Unit (PDU)?
A Power Distribution Unit (PDU) is a device with multiple outlets designed to distribute electric power to computers or networking equipment within a rack.

Why are PDUs necessary?
Growing demand for computing power and constraints on physical space have led to even more densely packed rack enclosures. And as the number of rack-mounted servers, blade servers, network switches and routers has increased, so has the need for power in the rack. For example, a blade server installation consisting of four 7U blade server frames in a 42U rack would require sixteen 20A power supplies. PDUs solve this problem by taking the power supplied to the rack and distributing it via multiple outlets to the rack's servers and networking equipment.
What type of power is available to your rack?
The power delivered to your rack cabinet may be either single-phase or 3-phase.
Single-Phase Power. In North America, single-phase power is is widely used in residences and smaller commercial buildings.
3-Phase Power. Larger commercial and industrial facilities typically have 3-phase service.
If in doubt, check with your facility management staff or power generation company.
What type of PDU do you need?
PDUs come in a variety of styles that provide everything from basic power distribution to enhanced power management and maintenance options. View the chart below to select the type that meets your needs.
Feature
& Benefit
Basic
Metered
Monitored
Switched
ATS
Hot Swap
Ideal for:
Basic Power Distribution
Local Power Monitoring
Remote Power Monitoring
Remote Power Management
Power Redundancy
Zero Downtime During Maintenance
Reliable In-rack Power Distribution
Multiple outlets, secure mounting, high quality

Digital Load Meter
Reports power consumption in amps

Network Interface
Enables remote monitoring and control

Switched Outlets
Programmable or real-time power control

Individually Switched Outlets
Individual programmable or real-time outlet control

Auto-Transfer Switching
Redundant power for non-redundant equipment

Manual Transfer Switch
Enables hot-swap replacement of UPS systems

All Models in this Product Family have this feature
Some Models in this Product Family have this feature
Where do you plan to install the PDU?
PDUs can be mounted horizontally or vertically inside or outside the rack enclosure: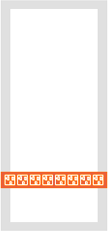 Horizontal PDUs are installed in the rack and take up one or two rack spaces (1U-2U). Because of their smaller size, horizontal PDUs have fewer outlets.
Vertical PDUs can be mounted on the back or side of the rack enclosure. Deep racks will often leave space for vertical PDUs to be mounted inside the enclosure. Vertical PDUs can have up to 40 outlets.
What is the voltage of the equipment in your rack?

In North America, the voltage used to power servers and networking equipment is typically 120V or 208/240V.
Europe and Asia typically provide 230V power.
Be sure that the PDU input plug matches the receptacles of your input power source.
What type of outlets should the PDU have?

The PDUs outlets should match the plugs on the equipment you'll be connecting. Some PDUs offer a mix of outlet types.
How many receptacles should the PDU have?

Select a PDU with more outlets than the number you need to ensure room for future rack growth.
Do you need any special features?
Dual circuit capability
Dual Circuit PDUs provide two completely separate power circuits for servers with redundant power supplies.
Sensor port for environmental and security monitoring
Some PDUs include a port for use with Tripp Lite's ENVIROSENSE sensor (sold separately). ENVIROSENSE monitors temperature, humidity and contact-closure inputs.
Single-Phase PDUs

Reliable rackmount power distribution for data centers, server rooms, and network wiring closets.

Locally monitor load level and avoid potential overloads with a built-in digital current meter.

Remotely monitor voltage, frequency, and load levels in real-time via a built-in network connection.

Securely control individual outlets at remote locations and reboot unresponsive equipment to minimize downtime and eliminate costly service calls.

Provide redundant power for single-corded network devices with PDUs with Automatic Transfer Switching (ATS).

Repair or replace UPS modules without taking your network offline.
3-Phase PDUs

Digital current meters display power usage per phase.

Remote and visual monitoring ability via built-in network interface.

Programmable individual outlet control, built-in network interface and visual current monitoring for advanced IT applications.