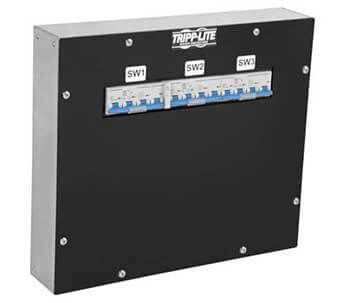 3-PHASE UPS SOLUTIONS
Businesses of All Sizes Depend on Efficient, Reliable Power
Customers expect you to be available round-the-clock. Shouldn't you expect the same from your power?
3-PHASE UPS SOLUTIONS
A Comprehensive Range of Products to Complete Your Power Protection System
Whether you only need a few minutes of battery backup runtime to ride through brief power problems or multiple hours to outlast extended power outages, Tripp Lite offers the external battery cabinets, bypass panels and monitoring technology to help build the optimal solution.
208V Systems

SUT SERIES
SV SERIES
CAPACITY
20-60kVA
20-140kVA
NOMINAL INPUT VOLTAGE
208/220V (Ph-Ph), 120/127V (Ph-N)
208/220V (Ph-Ph), 120/127V (Ph-N)
BENEFITS
Advanced high efficiency power protection for installations that may require N+N redundancy
Scalable in 20kVA increments and fault-tolerant power protection that expands with your business or data center, lowest Mean Time to Repair (MTTR)
APPLICATIONS
Small and medium installations, dedicated IT space, and mixed-use buildings with ≤ 80 kW in IT load
Small and medium data centers, light industrial, and large corporate networks with loads of ≤ 400 kW in IT load or 33 IT racks with 12kW/rack
INDUSTRIES
Data centers, IT Centers, Colocation, Education, Financial Institutions, Government, Healthcare
Data centers, IT Centers, Colocation, Education, Financial Institutions, Government, Healthcare
Features
FORMAT
Compact Tower
Rack-based architecture from 30U to 42U
LOCAL AND REMOTE MANAGEMENT OPTIONS
LCD control panel
Optional SNMP Network Monitoring (WEBCARDLX)
Large LCD control panel
SNMP Network Monitoring (WEBCARDLX) included
EFFICIENCY AND OUTPUT POWER FACTOR
Unity Power Factor
93%
Up to 98% efficiency in Eco mode
0,9 Power Factor
Up to 92%
Up to 99% efficiency in Eco mode
PARALLELABILITY
Up to 4 for power and N+N redundancy
Modular and scalable power up to 140kVA
BATTERY & RUNTIME OPTIONS
Space-saving internal batteries and external battery cabinets for extended runtimes
Internal battery modules or external matching and non-matching battery cabinets for extended runtimes
PRODUCT SERVICE OPTIONS
See Services tab
See Services tab
View SUT Series
View SV Series
400V Systems

SVTX SERIES
SUTX SERIES
S3MX SERIES
SVX SERIES
CAPACITY
10, 20 & 30kVA
20 & 40kVA
30-200kVA
30-210kVA
NOMINAL INPUT VOLTAGE
380/400/415V (Ph-Ph), 220/230/240V (Ph-N)
380/400/415V (Ph-Ph), 220/230/240V (Ph-N)
380/400/415V (Ph-Ph), 220/230/240V (Ph-N)
380/400/415V (Ph-Ph), 220/230/240V (Ph-N)
BENEFITS
Cost-effective power protection for small applications and with small footprint
Advanced high efficiency power protection for installations that may require N+N redundancy
Best value high-performance power protection with best-in-class footprint for reduced cost of ownership
Scalable in 30kVA increments and fault-tolerant power protection that expands with your business or data center, lowest Mean Time to Repair (MTTR)
APPLICATIONS
Small business installations, server rooms and closets
Small and medium installations, dedicated IT space, and mixed-use buildings with ≤ 80kW in IT load
Small and medium data centers, light industrial, and large corporate networks with loads of ≤ 400 kW in IT load or 33 IT racks with 12kW/rack
Small and medium data centers, light industrial, and large corporate networks with loads of ≤ 400 kW in IT load or 33 IT racks with 12kW/rack
INDUSTRIES
Data centers, IT Centers, Colocation, Education, Financial Institutions, Government, Healthcare
Data centers, IT Centers, Colocation, Education, Financial Institutions, Government, Healthcare
Data centers, IT Centers, Colocation, Education, Financial Institutions, Government, Healthcare
Data centers, IT Centers, Colocation, Education, Financial Institutions, Government, Healthcare
Features
FORMAT
Small tower
Compact tower
Best-in-class footprint
Rack-based architecture from 30U to 42U
LOCAL AND REMOTE MANAGEMENT OPTIONS
LCD control panel
Optional SNMP Network Monitoring (WEBCARDLX)
LCD control panel
Optional SNMP Network Monitoring (WEBCARDLX)
Large 10" color touchscreen, 100-200kVA models
Optional SNMP Network Monitoring (WEBCARDLX)
Large LCD control panel
SNMP Network Monitoring (WEBCARDLX) included
EFFICIENCY AND OUTPUT POWER FACTOR
0,9 Power Factor
Up to 92%
Up to 98.8% efficiency in Eco mode
Unity Power Factor
95%
Up to 99% efficiency in Eco mode
0,9 Power Factor
94%
Up to 98% efficiency in Eco Mode
Unity Power Factor
95%
Up to 99% efficiency in Eco Mode
PARALLELABILITY
Up to 3 for power, 20-30kVA models
Up to 4 for power and N+N redundancy
For 30-80kVA up to 3 units for power and N+N redundancy. For 100-200kVA up to 2 units for power and N+N redundancy
Modular and scalable power up to 210kVA
BATTERY & RUNTIME OPTIONS
Scalable with optional external battery options
Space-saving internal batteries
External batteries required for select models
Internal battery modules or external matching and non-matching battery cabinets for extended runtimes
PRODUCT SERVICE OPTIONS
See Services tab
See Services tab
See Services tab
See Services tab
View SVTX Series
View SUTX Series
View S3MX Series
View SVX Series

V System Related Products for UPS System