Model Number: P03600220RA
This Model has been retired and replaced by P036-002. More information for the P036-002-20RA is available on the model support page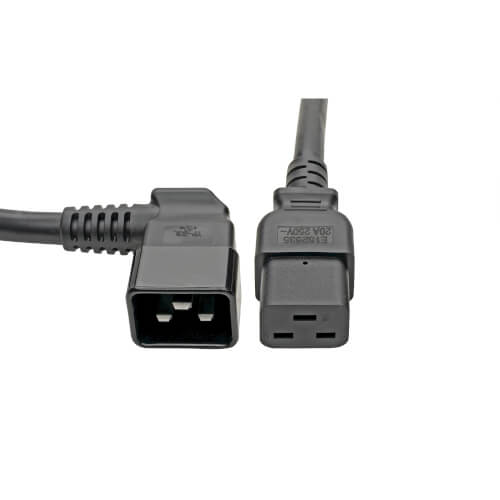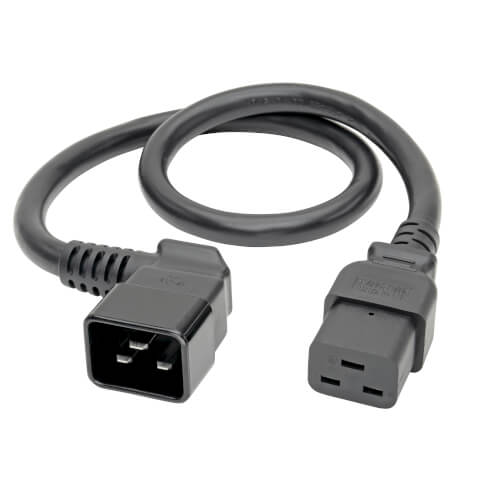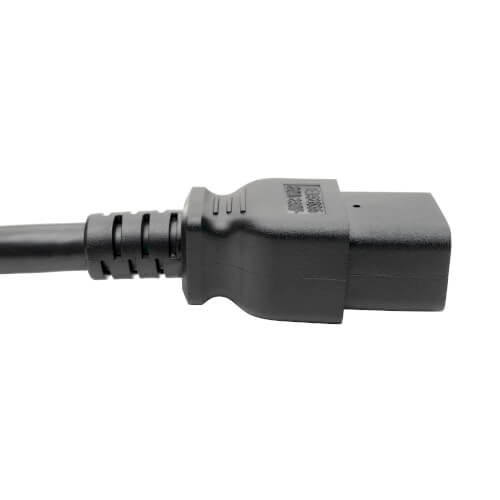 Power Extension Cord, C19 to Right Angle C20 - Heavy Duty, 20A, 250V, 12 AWG, 2 ft., Black
---
20A C20-to-C19 Power Cable for Network Devices That Require a Heavy-Gauge Connection
This heavy-duty extension cord features 12 AWG wire suitable for high power connections, making it a reliable solution for large server applications that require a higher-rated, heavier-gauge cable. This cord can be used to connect a server, router, network switch or blade server enclosure to a UPS system or PDU or replace or upgrade the standard power cord provided by the device's manufacturer. The two-foot length helps reduce cable clutter and minimize the risk of tripping.
Right-Angle C20 Plug Makes Connecting in Tight Spaces Easier
The C19 to C20 right-angle cable is easier to install in confined spaces, such as the back of a rack enclosure cabinet. When plugged in, the right-angled C20 plug guides the heavy-duty extension cable parallel to your peripheral, allowing you to push the device up against a wall or hide it behind a desk to maximize space.
Connect devices like computers, servers and monitors to a PDU up to 2 ft. away in your data center
Extend an existing power connection up to 2 ft. to more easily place a device or reach a power source in a rack
Update or replace the standard power cord provided by a device's original manufacturer
Power a device located in a hard-to-access area behind a desk or flush against a wall
P036-002-20RA C19 to Right-Angle C20 Heavy-Duty Extension Cord, 2 ft., Black
OVERVIEW
| | |
| --- | --- |
| UPC Code | 037332156532 |
| Country/Region | North America |
INPUT
| | |
| --- | --- |
| Maximum Input Amps | 20 |
| Cable Length (ft.) | 2 |
| Voltage Compatibility (VAC) | 100-250 |
PHYSICAL
| | |
| --- | --- |
| Color | Black |
| Number of Conductors | 3 |
| Power Cord Jacket Type | SJT |
| Shipping Dimensions (hwd / in.) | 0.50 x 5.00 x 7.60 |
| Shipping Weight (lbs.) | 0.50 |
| Wire Gauge (AWG) | 12 |
CONNECTIONS
| | |
| --- | --- |
| Side A - Connector 1 | IEC-320-C20 - RIGHT ANGLE |
| Side B - Connector 1 | IEC-320-C19 |
SPECIAL FEATURES
| | |
| --- | --- |
| High Voltage | Yes |
| Locking Plug | No |
WARRANTY
| | |
| --- | --- |
| Product Warranty Period (Worldwide) | Lifetime limited warranty |